Welcome to our world
We are a multi award winning bakery nestled in the heart of Rickmansworth. We believe in community, creativity and real honest baking made with love.
Our Story
We are an independently owned family business with a passion to share our knowledge, skills and for you to enjoy great tasting bakes, food and beverages.  The knowledge and expertise that we have has been attained over a 35 year period through experience, training and definite lots of experimenting!
After two years of planning, Cinnamon Square first opened its doors in November 2005 and expanded in December 2010 into the adjoining shop.  Over the years we have won several prestigious awards from the Baking Industry, Guild of Fine Foods and the World Bread Awards to name a few.
The ethos of Cinnamon Square is based on the use of the five senses, where customers can see, listen, touch, smell and taste the whole experience.
We love baking and want to share our passion, knowledge and information with our customers. Whether that's through our hands-on baking courses or children's parties, the in-store information boards or if you just want to come in and enjoy some of our fabulous foods or order your next celebration cake.
We aim to offer something for the whole family and to make the Cinnamon Square experience enjoyable for both adults and children.
We look forward to welcoming you to Cinnamon Square for a 'Cin'sational experience!
Paul Barker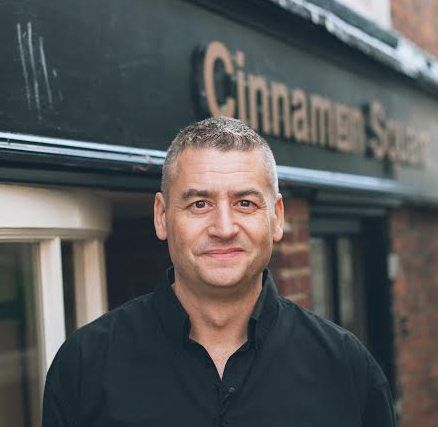 With over 35 years of experience, not only is Paul a professional Master Baker but he is also a qualified flour miller. His extensive career has spanned craft baking, research & development and Technical management. Paul shares all his wealth of knowledge and expertise within his baking classes.
If his face seems familiar that may be as a result of seeing him in Cinnamon Square, busy in 'The Makery' or the fact that he's appeared on various news segments advocating either a passion for REAL bread or for expert advise. He was also advisor for the first series of the Great British Bake Off and appeared on ITV's Britain's Best Bakery.
Tricia Barker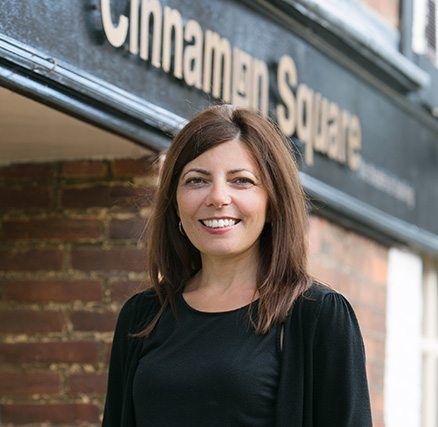 Tricia's focus is based on the vision for the bakery, communication and the customer experience. A passion for creativity and how the business evolves is top of her agenda, whilst ensuring Cinnamon Square stays true to its values in particular in relation the local community.
Cinnamon Square is a real team effort.  From specialist Cake Makers, Bakers, Baristas, Chefs right through to our Juniors who have a very important part to play keeping things ticking over in the background. Their aim is to make your experience as enjoyable as possible and to deliver exceptional products with a friendly and attentive service.