Botanical Breads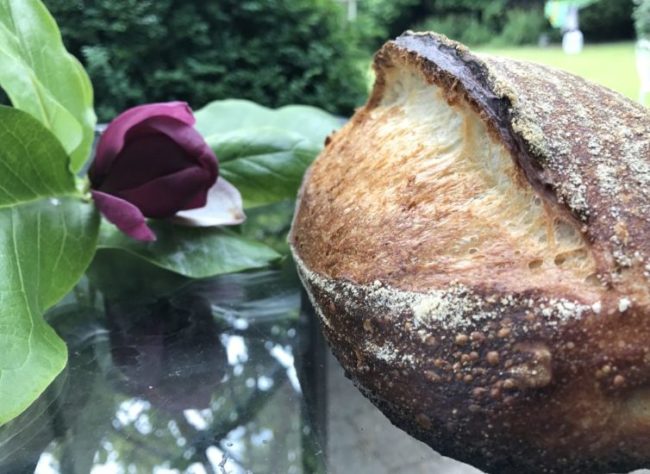 The harnessing of wild yeast and bacteria abundant in fruits, flowers, plants and vegetables to naturally leaven wholesome breads and create subtle flavours and aromas within.
Fermenting has been used to preserve food for thousands of years.  Wheat & Rye flours are commonly used for the production of sourdough bread.  By fermenting fruit, vegetables, plants and flowers, probiotic drinks are made.  The water from these drinks can have tremendous dough leavening power, plus impart subtle flavours and aromas to the baked breads.
The potential combinations of flavour varieties are vast.  At Cinnamon Square we have been testing and developing these into a range of Botanical Breads for you to enjoy.  Our first loaf was actually made from Magnolia petals from Paul's own garden.  Since then we have tried a variety of combinations including Avocado & Red Chilli, Watercress, Carrot & Coriander, Fig & Fennel, Leek & Potato, Beetroot, Date & Walnut, Vine Tomato & Basil.
Bespoke Botanical Breads:
Grow your own fruit and veg?
Fancy designing your own bread?
At Cinnamon Square we will bring your flavour combination to life, even using your home grown produce.
Makes a great gift for family and friends.
The Botanical Process (10 – 14 days):
Consultation with Cinnamon Squares' Master Baker to confirm botanical bread flavour to be made.
Choose your bread type; either oven bottom bloomer or tin loaf.
Agree date for your bread to be baked and collected.
Two weeks prior to baking, you provide us with agreed fruits, flowers, vegetables and any complimentary ingredients if required (e.g. walnuts, dried fruits etc.).
We then start the botanical fermentation process (this will be in its own jar with a parcel label attached).
You can pop in to see its progress.
Four days before bake, the botanical culture is started.
One day prior to baking we make your dough (this will eventually be chilled overnight before baking).
Five 475g bespoke botanical breads will be available for collection from midday on your agreed date.
All inclusive cost £28.  To discuss call Paul on 01923 778353.
Helping to Reduce Food Waste:
Making bread the Botanical way is a great way to contribute to the reduction in wasted food.  At Cinnamon Square we believe if more bread could be made this way it would provide a unique and wholesome way of 'recycling' unused fruits and vegetables; or even your wilting roses from Valentine's Day!
Finalist – 2018 Baking Industry Awards Innovation Category:
We are delighted to announce our Botanical Breads concept has reached the final three in the Innovation category at this year's Baking Industry Awards.  These awards are the 'Oscars' of the UK's baking industry and are held at the prestigious Hilton Hotel, Park Lane London in September.  Please keep your fingers and toes crossed for us!